This guide should help you fix low quality sound (such as TV noise-like sounds) when playing Naruto Shippuden: Ultimate Ninja Storm 4 for PC. Keep in mind that this guide was written with Windows machine users in mind.
Step 1 :
Go to your computer's sound settings.
For example, if you use Windows 7, right-click the sound icon from the task bar and choose "Sounds". Alternatively, you can type in "Sound" from the search bar and select "Sound".
Step 2 :
Go to the appropriate tab (eg. Playback) and double-click your computer's speaker to open up another screen (Speaker Properties). Select the Advanced tab and lower the frequency to 16 bit, 44100 HZ (CD Quality).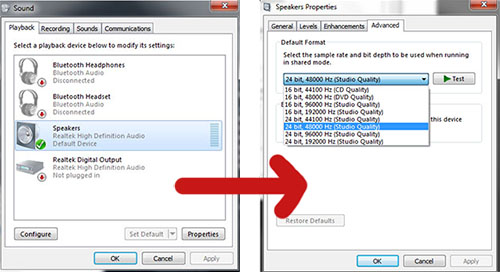 Once chosen, select Apply followed by OK.
Note: You can test from the lowest to the frequency you had before to see which is the best quality for you. 44100 HZ isn't the best sound quality in the world (of course), however, it will be a lot smoother if you're experiencing terrible audio with your current settings.
The higher the frequency, the better quality sound you will hear.