If you're bad at finding things or you're just too lazy to take some time to look for it, this guide aims to make your life easier by showing you how to use/redeem a PC game download code on Steam.
How To Redeem A Game Download Code on Steam
Step 1 :
Open the Steam client and log into your account (alternatively, you can use the desktop site).
Step 2 :
From the navigation menu, click 'Games' and a drop-down list should appear. Select 'Activate a Product on Steam'.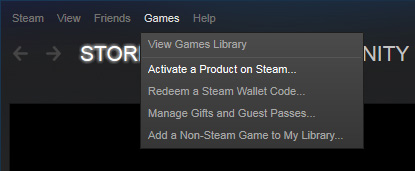 Step 3 :
Agree to Steam's terms then enter the download code in the box. Once you are done, press Next and follow any other instructions when prompted on the screen. If the code worked, you should be able to download your game right away.
Take note, an Internet connection is required to download a game via Steam.