You can either compare your computer's system requirements with the minimum/recommended system requirements of the game or you can download and use a program that checks it for you and tells you whether your PC can run it or not.
In this guide, I'll show you how you can check it with a well-known and trusted program.
How To Find Out If My PC Can Run A Game
First you must go to Can You Run It at System Requirements Lab.
Choose the game you want to find out if it can run on your computer and hit the button :

Download and install to program to your computer and make sure to launch it after its installation process. It'll be difficult to find the program's path if you don't, therefore it's a recommended step. You can always uninstall the program from your Control Panel.
The program should send back your system specs to the System Requirements Lab server :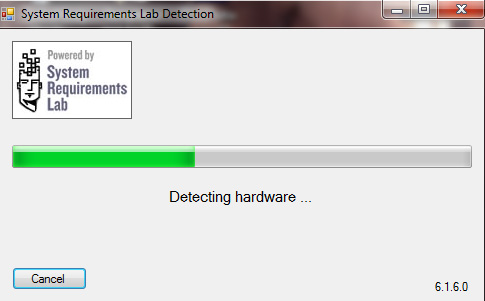 Once that has been completed, you can use the System Requirements Lab website to find out which PC games your computer can run. The database contains a lot of games and constantly gets updated with the latest (such as Call of Duty Black Ops 3 and Fallout 4 as of writing this). It should show you if your computer meets the PC game's minimum or recommended requirements and it also reports to you what needs to be improved to run the game.
You can also uninstall the program from your computer by going to Control Panel -> Programs -> Programs and Features -> Right-click the program from the list and select Uninstall. Your computer's specs have already been sent to the server, so it is unnecessary to keep it.